Best Double Door Fridges with Inverter Compressor on Amazon India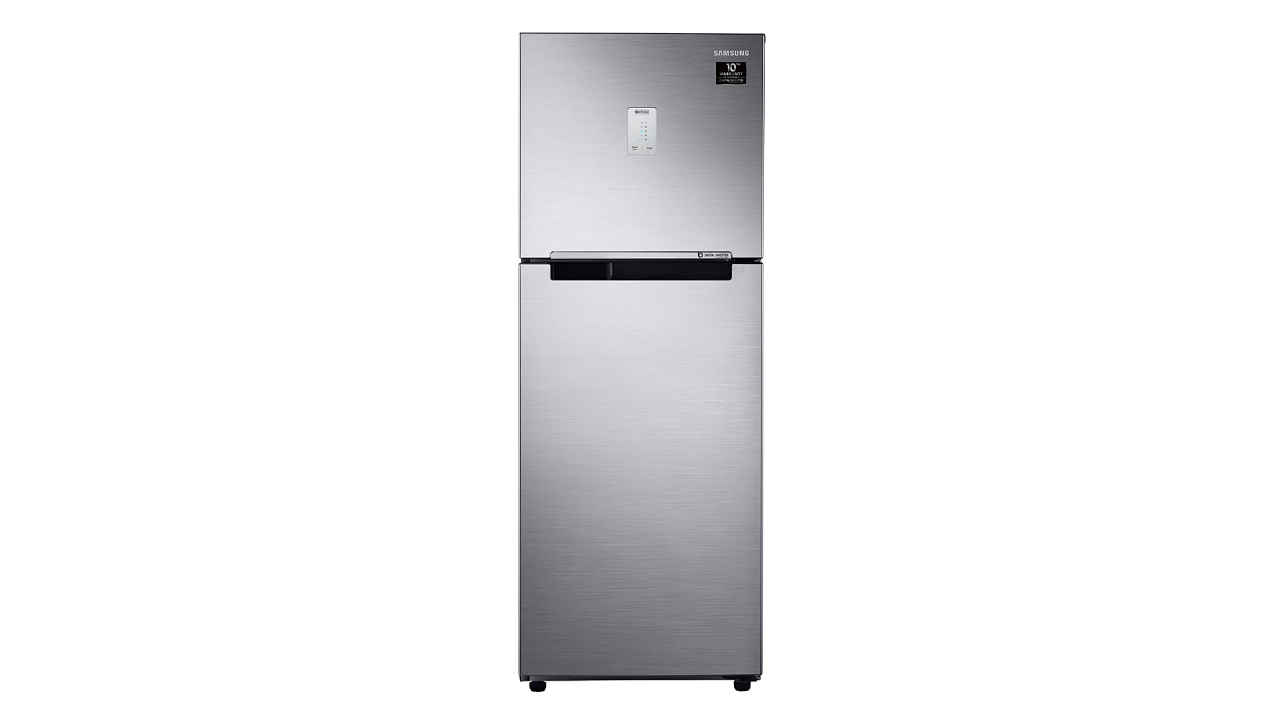 Get one of the double door refrigerators mentioned in this list and keep your groceries and food fresh while reducing your electricity costs.
Refrigerators are essential to beat the summers. Luckily, there are so many options available on the market that differentiating a good one from the pack can be a daunting task for even the most tech-savvy person. So here is a list of some of the best double door refrigerators with inverter compressors that you can get online right now.
Samsung RT28A3453S8/HL
One of the most trusted names in the electronics industry, Samsung introduces this 253 liter double door refrigerator ideal for singles and small families of 2-3 members. Features like Power Cool, Full Cooling System, Air Freshener and Fresh Room ensure that anything stored inside the fridge stays cool and fresh for a long time. Its easy-glide shelf and moveable ice maker allow the user to easily remove large foods as well as ice. Samsung even equipped it with a digital display that lets you have full control over your fridge without even opening it. India is prone to power outages, and you'll be happy to know that the Samsung RT28A3453S8/HL can work even on a home inverter in case you don't have a spare inverter for the fridge; the supplied Coolpack will prevent food from spoiling by keeping it frozen below 0°C for approximately 12 hours.
INTELLIFRESH INV CNV 278 3S Whirlpool
When it comes to appliances, Whirlpool has a reputation for not disappointing. It offers feature-rich products, such as this double-door refrigerator. The Whirlpool INTELLIFRESH INV CNV 278 3S is a 265 liter 3-star refrigerator large enough for small families as well as singles. It is powered by Adaptive Intelligence technology which uses smart sensors to analyze data and deliver an efficient cooling experience continuously. Features like the Honeycomb Crisper Lid, Freshonizer, Zeolite Technology and Microblock Technology ensure your food is as fresh as day one for a very long time. It even automatically connects to your home inverter in the event of a power outage resulting in uninterrupted cooling. IntelliSense Inverter Technology adapts cooling based on internal load, reducing power consumption and your utility bills.
LG GL-I292RPZX
LG is a brand known for its quality home and kitchen appliances, and this refrigerator is one of them. The LG GL-I292RPZX is a double door refrigerator with a capacity of 260 liters and a 3-star rating, which makes it a good choice for 2 to 3 people. Door Cooling+ technology combined with multi-airflow cooling ensures that every corner of the refrigerator is properly cooled. When it comes to storage, LG has outfitted it with rimless tempered glass shelves, 2-liter bottle storage, a double-twist ice bin, and a special type fruit/veg box. trellis. What makes this refrigerator truly smart are features like Smart Connect and Smart Diagnosis, which also help it stay ahead of the rest of the competition.
Haier HEB-25TDS-E
If you are looking for a convertible refrigerator with an inverter compressor, check out this one. The Haier HEB-25TDS-E is a 256L double-door refrigerator with an 8-in-1 convertible mode that you can choose according to your needs. Haier has equipped it with tempered glass shelves and a large crisper box, so you can store large amounts of food without worrying about staling. The antifungal seal combined with its efficient cooling design ensures that everything inside stays cool and free of germs. Haier's Twin Inverter technology ensures that the fan and compressor can work depending on the load at different speeds.