French Door Refrigerators That Give Your Kitchen an Upscale Look | Most Wanted Products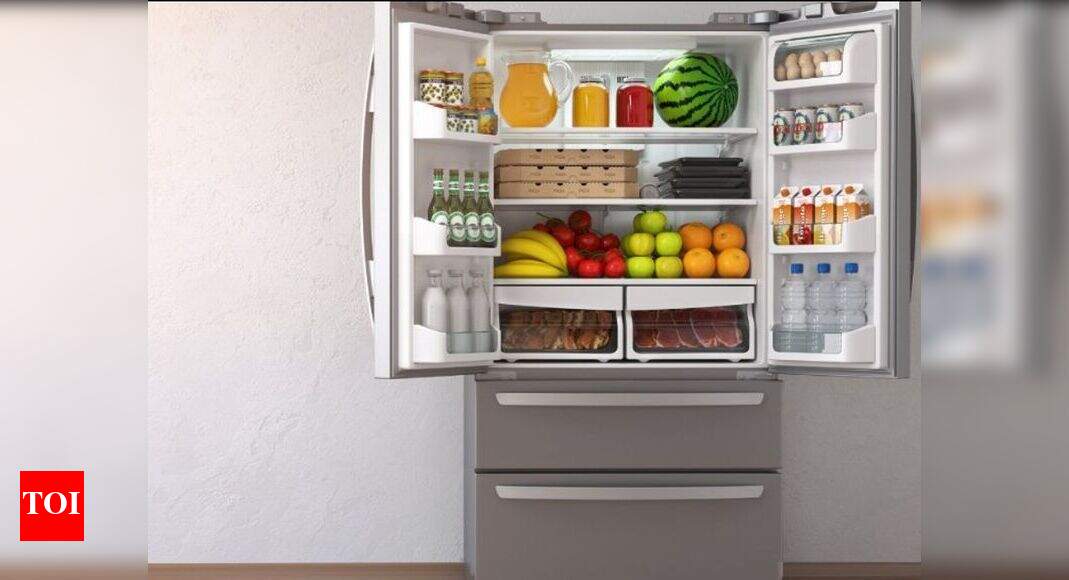 A French door refrigerator is a modern refrigerator that gives easy access to beverages and food stored inside the refrigerator. These types of refrigerators are a bit large compared to regular refrigerators. Also, they have a bottom freezer as well as two hinged doors. A major benefit of this major appliance is that with it you don't have to bend down to get items out of your fridge and they save energy since you don't have to open the whole fridge to get an item.
So if you also want to replace your regular refrigerator with one of the French door refrigerators, you can consider one of our choices:
The state-of-the-art Samsung Family Hub fridge has a large Wi-Fi-enabled screen on the door that shows your calendar, ordering groceries, plays music, streams TV and more. Samsung also has three cameras inside, so when you log into the app at the supermarket it can show you how much milk you have left. It has two freezer compartments that open to the side to reveal two drawers and a shelf, and if you need extra fridge storage space, the right freezer compartment can be switched to fridge temperatures. Inside the refrigerator, a self-filling water pitcher with infuser adds to the functionality of the water dispenser, another smart feature not found in other French door refrigerator models.

Congratulations!
You have successfully voted
The Samsung Family Hub 4-Door French Door Refrigerator has a host of features that are worth it if you are looking for a smart home appliance.
If you want a French door refrigerator without having to spend a lot of money, you should consider the Haier 531 L Inverter Frost-Free Side-by-Side Refrigerator. It is a 531 liter French door refrigerator, which makes it one of the most compact and smallest options. One of the best things about this refrigerator is that it uses dual inverter technology, making it one of the most efficient options out there. When combined with its dual fan cooling system, you can expect the entire fridge to be cooled quickly and efficiently. In terms of structure, the refrigerator has a basic status panel that can be used to know the statistics of the refrigerator when needed.

Inside this French door refrigerator, there is no wall partition, which makes the set spacious enough to easily store plenty of food.
Whirlpool is one of the most popular refrigerator brands that offers various innovative models with superior features. And so, this French door refrigerator comes next on our list which is again a great deal for your home. The refrigerator has higher moisture retention than normal frost-free refrigerators, ensuring freshness for a long time. This French door bottom freezer refrigerator has the refrigerator section on the top side with two doors and the freezer section on the bottom with two drawers. Thus, it offers you enough space to store various foods very conveniently.

In addition, it comes with an IntelliSense DC inverter compressor that ensures even cooling inside the refrigerator by adjusting its speed according to the workload. As a result, it also guarantees energy efficiency.
Besides the confidence and durability of the LG brand, this refrigerator stands out for its flexibility and functionality. The InstaView Door-in-Door refrigerator features an elegant mirrored glass panel that illuminates with two quick swipes, allowing you to see inside the easy-to-access compartment without ever opening the door, reducing the loss of cold air to help keep food fresh longer. We were surprised by its Auto Open Door feature, which is a smart sensor detector at the foot of the refrigerator that opens the door automatically. Just step on the Door Open light projection on the floor in front of the refrigerator and the door will gently open.

With its Wi-Fi connectivity feature, you can use the sleek controls or your smart phone to easily monitor and control your French door refrigerator.
This Hitachi brand bottom-freezer French door refrigerator is loaded with features, making it a great addition to your kitchen. Aesthetically designed, this model is very nice with convenient four door options and the recessed handle gives this fridge a sleek look. With a capacity of 650 liters, the refrigerator allows you to store all types of foodstuffs in any quantity without worrying about the lack of space. It includes four tempered glass shelves in the refrigerator compartment that can easily accommodate bulky containers.

Moreover, it has well-designed double-layered door pockets including large back pockets and small front pockets and further allows you to store bottles of different sizes in an organized manner.
Check out more French door refrigerators here.
DISCLAIMER: The journalists of The Times of India were not involved in the production of this article.