How to Buy Kitchen Appliances at Thrift Stores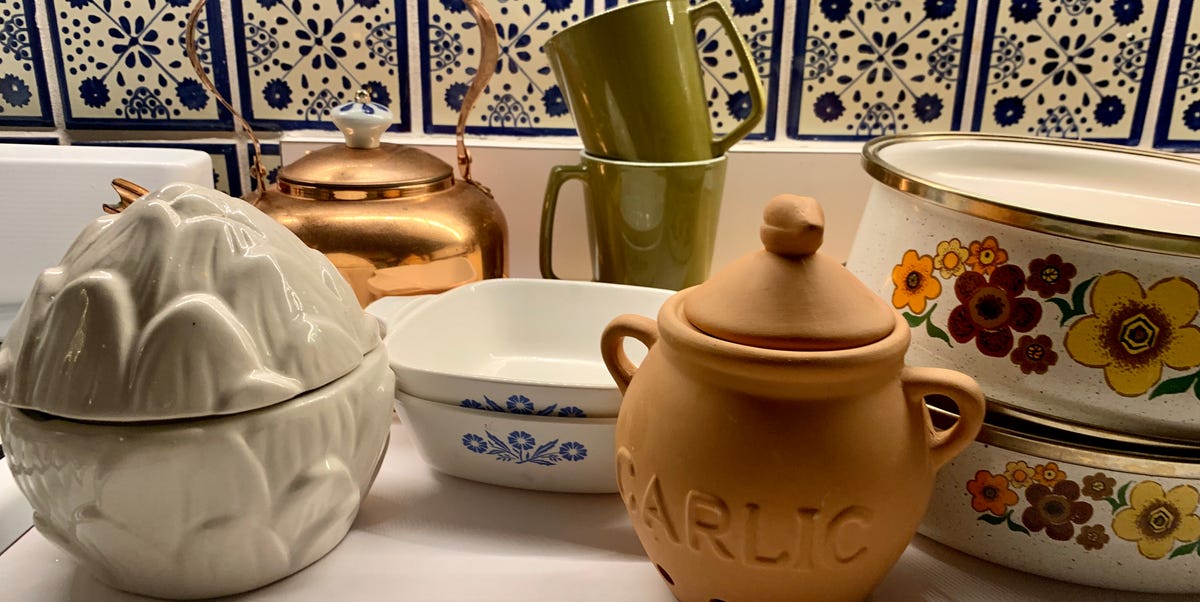 I always leave my grandmother's house with a trunk full of old kitchen treasures stashed in my car. Childhood visits were like stepping into a time machine in the 1970s when she built her home with my grandfather. It was gorgeous – beige-colored laminate countertops, shaggy green carpet that squeezed between your toes, seemingly old pots and pans, and little tiles from their travels hanging on the walls.
Since then, she has moved from that house to an apartment, but I loved taking small pieces of this house that she bequeathed to me and incorporating them into mine. One of my most treasured possessions is a 1970s set of pots and pans, with an orange and brown curly floral design that reflects the era. The box had never been opened – she doesn't like to throw away anything of value – and despite her age, I was the first to use it.
The rest of my kitchen is a reflection of these transmitted objects. I like to call the look "collectable," which is the trendy way of saying a mishmash of gifted, saved and found pots, pans, plates and glasses. My cabinets contain sage green coffee mugs from this grandma, ceramic plates from my cousin after her upgrade, modern black bowls found on Facebook Marketplace. There are the perfect brown jars for onion soup that my great aunt gave me on the condition that I send her a photo of myself using them, and a red one. Dutch oven with a stained background of my mother, as well as countless mixed sets of Pyrex and Corning tableware and glassware. I happen to be from Corning, NY where these brands originate from, so antique and thrift stores are full of them.
I would venture to say that almost everything in my kitchen (or my home in general, really) has had a first life elsewhere, whether sitting needlessly in a box in the basement, or previously used with so much love that marks are left, as with this dutch oven. I love that my cooking is made up of pieces from other people's kitchens, as if all the delicious meals cooked in that Dutch oven before me would make my cooking even better.
But I didn't get everything from the family. The rest of my cooking comes from Goodwill, The Salvation Army, Savers, and Flea Markets. Getting that collected look (not to mention affordable and eco-friendly!) Requires browsing stores like these or asking loved ones for offloads, but the process can be so fun and totally special. I spoke to two professional vintage kitchen decor sellers about what to look for when buying vintage kitchenware, what products you should always buy and what you can feel free to. to avoid.
How do I know what to buy in a thrift store?
If you already know the style and aesthetic you are looking for, great! But Jenny McLachlan from the Etsy store LaSelvaPlageHouse said the funny thing about many buyers today is that they don't limit themselves to just one style. "They are open to mixing style and decor periods in their collection," she said. "You will find mismatched bowls, plates and platters, mid-century drinks and bar items in fun colors, rattan baskets and vintage wooden bowls in the same kitchen. So if you like it, buy it! The savings or collection atmosphere consists of having objects from different eras, which ultimately gives that warm and lived feeling.
What brands or products should I always look for?
Keep your eyes peeled for brands known to last. Lise-Anne Pilon Delorme, who sells vintage kitchenware through her Etsy store lizfinestcollection, recommends researching Pyrex, Royal Doulton, Johnson Bros., Homer Laughlin Restaurant Ware, Glasbake and Fiesta. But also consider the materials of the product, not just the brand. McLachlan recommends "anything made of ironstone – platters, lidded tureens, pitchers, bowls" as well as bamboo wine racks, stoneware pots and Copper pots. "
Also look for cast iron pots that you can bring back to life, a stainless steel kitchen that just needs a good cleaning up, and glass or ceramic products that double as decoration and storage, like mason jars and vases. .
What should I avoid?
If it doesn't look solid, skip it. If it's already damaged, ignore it. You want to buy items that lasted well their entire first life, so you know they have the durability for their second life. Avoid anything that is rusty or wood products that have seen better days; the wood absorbs the liquid, and you don't know what kind of liquid an object has ever seen.
How do you avoid feeling overwhelmed?
Walk into any thrift store and you will probably be completely amazed at the huge selection, crippled by the choice. I do my best to make a list of what to look for before I go: for example, I might be looking for a set of six drinking glasses or a bunch of small bowls. I'm just focusing on this section to see if I can find a set of glasses and a few bowls that I like.
I also try to leave some room for spontaneity. I was recently looking for a salt cellar to keep next to the stove. I wanted something about six inches wide, with an easily removable top and room for a decent amount of salt. It took me a few weeks, but eventually I came across an artichoke-shaped ceramic dish that was perfectly charming. It met my specifications and added something unique to my kitchen. He makes me smile every time I spot him.
Stocking up a new kitchen takes time, so have a little patience. Just know that taking the time to find affordable, quirky, and cute additions to your kitchen is part of what makes the process so fun.
This content is created and maintained by a third party, and uploaded to this page to help users provide their email addresses. You may be able to find more information about this and other similar content on piano.io