Hyderabad gets a splash of sleek built-in kitchen appliances with Crompton Signature Studios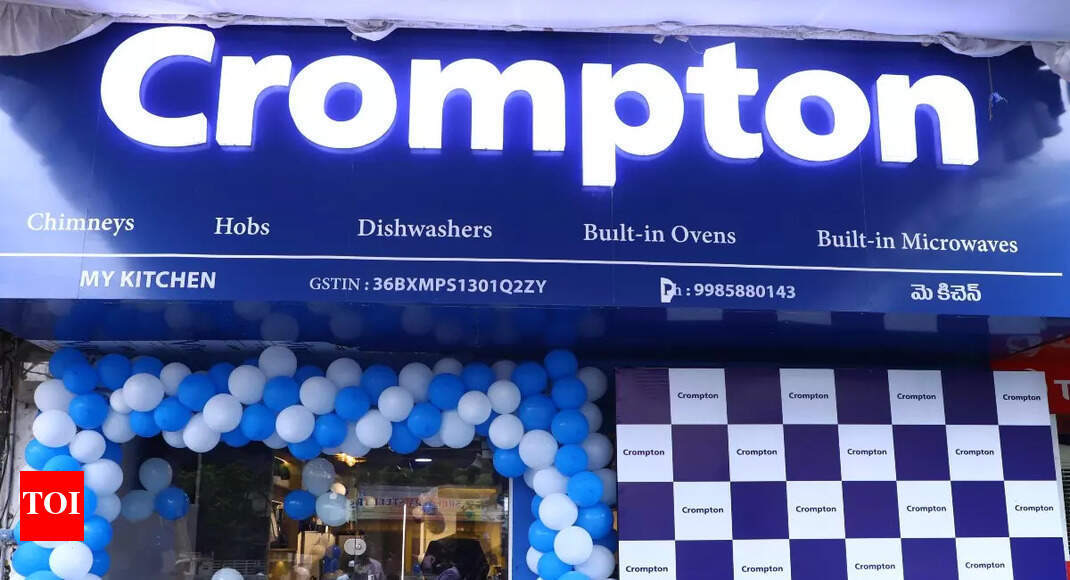 Crompton, a market leader in consumer electrical appliances, has recently launched its integrated kitchen appliance products in Hyderabad through its exclusive "Crompton Signature Studios" outlets.
All three stores were launched by Nitesh Mathur, VP of their New Business Initiatives, to much fanfare.
The kitchen space is an area of ​​focus for the company and Crompton recently completed the acquisition of Butterfly Gandhimati Appliances to strengthen its presence in the kitchen space. Entering the built-in appliances segment will further consolidate their position in the kitchen space, driving growth and premiumization of the brand. The products have been launched in the top 10 metros of India.
Congratulations!
You have successfully voted
Abdul Khadel and Amjad Shaik Ali


Range of innovative products
Crompton unveils a full range of 38 models including fireplaces, gas hobs, built-in ovens, built-in microwaves and dishwashers. These products have been developed based on intensive consumer research to specifically address unmet needs to make consumers' lives enjoyable and comfortable in kitchens. The Crompton Innovation & Developments teams leveraged their expertise in consumer electrical, air management, user experience and user interface to achieve the above objective.


Key differentiating features of the premium range of fireplaces which have been tested in reputable NABL laboratories (consumer prices start at Rs 12,500 including installation and taxes)
● As quiet as AC with 50% reduction in perceptible noise

● Keeps kitchen air clean of smoke, soot and odors by increasing suction power by 50% over commonly available models

● Reduction in the number of professional cleaning interventions required thanks to Intelli-autoclean technology

● Designed with a large touch screen and equipped with gesture control, these fireplaces are designed to provide great aesthetics and a pleasant user experience.
Mantosh Kumar and Surendra Reddy


Key differentiating features of the premium range of cooktops include (consumer pricing from Rs 14,000 including installation and taxes):
● Digital timer that turns off the burner at the end of the programmed time

● Flame failure safety device that shuts off gas supply to prevent gas leakage in the event of flame failure
Interior of the Crompton Signature Studio
Key differentiating features of the ovens include (consumer pricing from Rs 41,000 including installation and taxes):
● Pyrolytic cleaning that eliminates the need to clean the oven

● Hot air shield preventing hot air burns to consumers
The main differentiating features of the dishwashers include (consumer prices from Rs 48,000 including installation and taxes):
● Dual wash pro that cleans at two separate water pressures in a single wash while keeping noise as low as an AC current

● Superior drying performance thanks to turbo drying technology with additional fan support that draws steam away from the cabinet
Stores designed with consumers in mind

Crompton Signature Studios was designed to deliver an unparalleled product and brand experience to our consumers. Choosing the right appliances for your kitchen can be quite a challenge. Therefore, these stores have been exclusively designed with consumer preferences and easy product selection in mind and are staffed by experienced business advisors. The ambience of the store is conducive to casual discovery and exudes a warm and welcoming atmosphere that invites consumers to come in and hang out.

Discover attractive launch programs in these stores

Crompton's premium product portfolio will be available in launch stores under attractive launch programs that include free installation of products. Consumers can also benefit from attractive consumer credit programs in stores when shopping. Crompton is also building a world-class service network by leveraging its large presence in the country.
VP of New Business, Nitesh Mathur, added, "Crompton has gained a deep understanding of its target consumer segment and will target them with a differentiated product line. In addition, we are also setting up exclusive high-end "Crompton Signature Studios" outlets. I want to express my gratitude and thanks to our iconic studio partners as well as other distribution partners."
All store members are following COVID safety protocols in the interest of customer and employee safety.
Crompton Signature Studios are at-

My kitchen

#38-6-1, JJ Nagar, Defense Colony, Neredmet X Roads, Secunderabad, Contact: 9985009127

Vivera Tiles

Sy no.8, Bachupally junction, main road, Bachupally, Hyderabad, contact: 9849016390

fireplace gallery

H. No. 4-68, Opp. Hanuman Temple, Tara Nagar, Chandanagar, Hyderabad, Contact: 9293227998
Disclaimer: This article was produced on behalf of Crompton by the Times Internet Spotlight Team.