Large Capacity Fridges Up To 30% Off During Amazon's 2022 Republic Day Sale: Check Products From LG, Samsung, Lloyd, And More | Most Wanted Products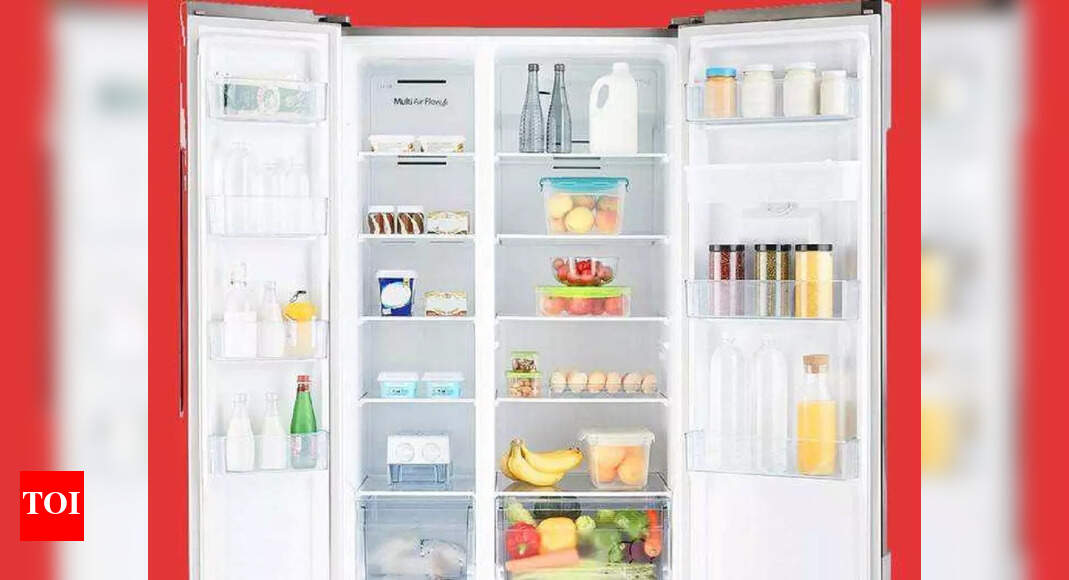 Your quest to get a healthy refrigerator for your home ends here. The Amazon Republic Day Sale 2022 is here and it offers you an impeccable chance to score amazing refrigerators with massive capacity for discounts of up to 30%. These large capacity refrigerators are offered by prestigious names such as Samsung, LG, Lloyd and many more. This Amazon Republic Day sale ends on January 20, 2022. For SBI
credit card
holders, an instant 10% discount is available on purchase.
So, take a look at some of the finest and most popular refrigerators available online in India:
Congratulations!
You have successfully voted
Samsung Frost Free Inverter Triple Door Fridge – Save Rs 17,000
Buy this awesome refrigerator from Samsung which comes in a triple door design and is convertible in nature. The offered refrigerator has a 4-star energy rating and has a capacity of 580 liters. Price: Rs 70,990.
Why buy this?
Digital Inverter Compressor
Twincooling plus technology
Automatic defrost function
Energy saving
LG Side by Side Fridge – Save Rs 31,600
Get this high performance refrigerator from LG with a capacity of 687 litres. The offered side-by-side refrigerator is known for its auto defrost feature that prevents any ice buildup. Price: Rs 79,590.
USP
3 door basket
1 daily corner
2 vegetable bins
422 liter fresh produce capacity
Panasonic Side by Side Fridge – Save Rs 31,010
Check out this sleek and spacious side-by-side fridge from Panasonic, available in black colour. Appreciated for its premium glass finish, this refrigerator features wireless connectivity and temperature control. Price: Rs 73,990.
Why choose this?
Smart diagnostic function
One-touch service request
Power failure reminder
Quick ice function
Lloyd Side by Side Fridge – Save Rs 25,191
Don't miss this large capacity fridge from Lloyd which comes in a gold glass finish. This side-by-side refrigerator has a capacity of 587 liters and is ideal for families of 5 or more. Price: Rs 59,799.
Highlight Features
Available with 3 shelves
Quiet operation
Uniform cooling
Low consumption
LG Side by Side Fridge – Save Rs 22,210
LG brings you this attractive and durable refrigerator with a capacity of 668 litres. Suitable for families of 5 or more, this side-by-side refrigerator features 2 drawers and 4 shelves. Price: Rs 1,04,880.
Why get this?
246 liter fresh produce capacity
Inverter Linear Compressor
Fresh hygiene +
Smart diagnosis
Samsung Side by Side Fridge – Save Rs 12,000
Samsung offers this side-by-side refrigerator known for its Spacemax technology. Available in a 700 liter capacity, this side-by-side fridge provides complete cooling, keeping your food fresh. Price: Rs 77,490.

Reasons to buy this
DIT Compressor
50% less energy consumption
Sound level – 40dBA
Operation without stabilizer
Check out more deals on Amazon Republic Day Sale here.
Disclaimer: Times of India reporters had no input into the writing of this article. The prices of the products mentioned in the article are subject to change with the offers offered by Amazon.