Samsung BESPOKE refrigerators: fully customizable and flexible refrigerators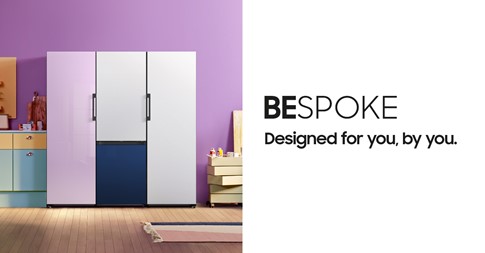 Buying the right fridge for your home can be mind-boggling. First there's the number of things you want to store inside, then there's the worry of whether it's right for your kitchen, and the list can go on and on, but once you started with Samsung BESPOKE refrigerators, you can customize your refrigerator. Just like how you customize your kitchen cabinets, whether in shape or color options, Samsung BESPOKE refrigerators offer excellent cooling performance and versatility you could never have imagined.
Samsung BESPOKE refrigerators are built with a modular and customizable design, you can start with a bottom mount or 1-door flex convertible, customize their door colors with Glam White, Glam Navy and Pink* color options, then expand to two more BESPOKE Refrigerators at a later date, all of which can be cooled with equal or respective cooling temperatures using an "All-Round Cooling" technology.
*Custom color varies by region.
Samsung BESPOKE refrigerators are designed to fit in any kitchen and blend in with any kitchen cabinet, they can be installed as a counter depth or kitchen style by aligning it with your kitchen cabinet. kitchen, while its doors can be installed depending on the direction. you want it to open, there hasn't been such a thoughtful refrigerator design.
The problem with most households is that when you want more space to freeze or refrigerate items, the only solution is to empty your fridge or buy a new one which may have unused space.
The Samsung BESPOKE 1-Door Flex Convertible Refrigerator allows you to change their compartments on demand to become a freezer or a refrigerator, it will be an all-purpose refrigerator that you wish you had earlier when you have a big household.
Samsung BESPOKE refrigerators are linked to deliver comprehensive cooling performance, helping you ensure your food stays at its optimum freshness and temperature, while a metal cooling plate* at the back maintains an internal temperature optimal even when you frequently open and close the door frequently.
* The metal cooling function is applied to specific models.
If you need to chill your drink quickly in hot weather, use the Power Cool function to blast cold air intensely and it will be ready as if chilled for hours, in minutes.
In addition, Samsung BESPOKE refrigerators are powered by an efficient Samsung Digital Inverter motor, which operates quietly and minimizes electricity costs*, while offering up to 10 years of warranty**.
Learn more about Samsung BESPOKE refrigerators here.
* Based on internal testing in accordance with ISO 15502.
**The 10 year warranty is limited to the compressor only.