The Best Retro Fridges You Can Buy Online 2022 – Retro-Inspired Fridges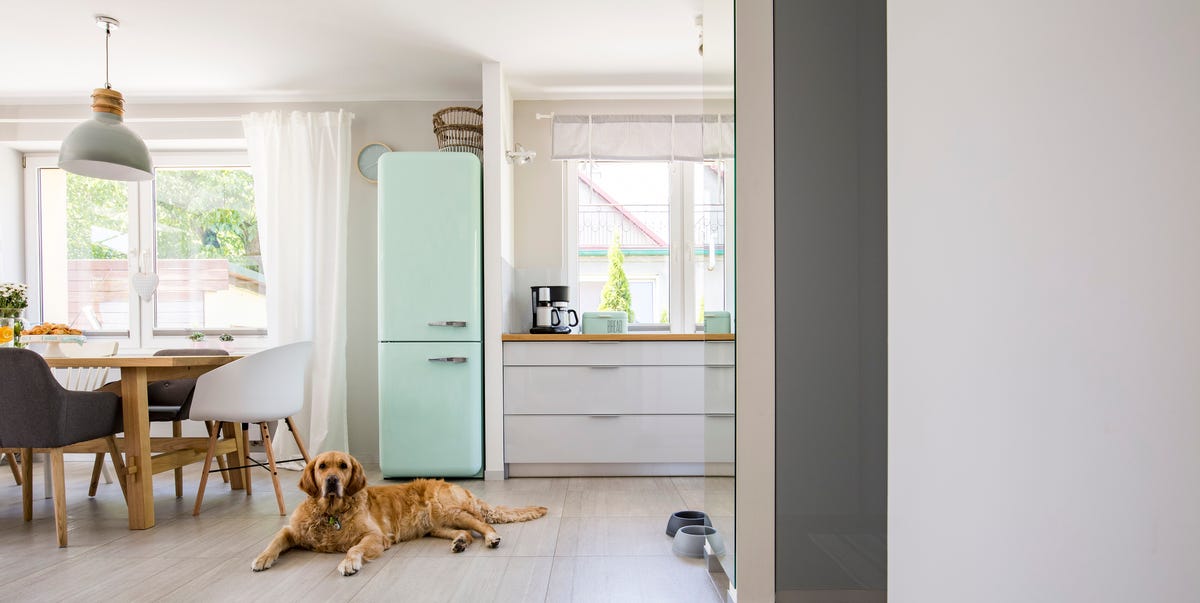 Buying a refrigerator is a commitment not only to technology, but to determining the atmosphere you want in your kitchen. Giant stainless steel fridges, built-ins and all their high-tech upgrades certainly have a certain appeal, sure, but we also have a soft spot in our hearts for retro fridges. If you want your kitchen to have a playful, vintage-inspired vibe and prefer your appliances to be in bold, pastel colors, a retro refrigerator might just be the appliance you need.
Historically, most retro fridges are smaller than average – the majority on this list are between 9 and 12 cubic feet – meaning they're lifesavers for small spaces! Retro refrigerators work best in apartments, small homes, or for families that don't stock tons of groceries at once. That said, it's not impossible to find a more standard-sized fridge in a retro look (just ask Big Chill!). Either way, these retro refrigerators will add a whole new layer of style to your kitchen. Although they are smaller, there are plenty of candy-colored and modern neutral shades that will complement your kitchen and make an impact. If you're up for dinner with some time-travel-inspired style, here's where to look. And the best part? Most of the options on this list are under $1,000, so you can still get a colorful retro fridge on a budget.
Advertising – Continue Reading Below
Retro Top Freezer Apartment Refrigerator
This apartment-sized top-freezer fridge from RCA is a good option if you're looking for a classic retro look. It measures 10 cubic feet and is available in three colors: red, black and blue.
50's Style Bottom Mount Refrigerator
How dreamy is this cotton candy blue fridge? Smeg offers over a dozen colors (and even bold patterns!) and multiple sizes. If this two door bottom freezer model isn't what you're looking for, you can always opt for a top freezer option that has a door, or even a mini fridge.
Retro Frost Free Refrigerator in Cream
If you're a fan of neutrals, this 11 cu. ft will easily blend into your kitchen, especially if it's a tight space! From "no frost" control for the bottom freezer to simple electronic controls, this refrigerator is simply where beauty meets function.
Summer Mint Green Classic Retro 22″
This cool mint green refrigerator intrigues without clashing with your home's color scheme. It's even Energy Star certified for year-round energy efficiency, making it reliable and environmentally friendly.
3.2 Cu. Ft. Single Door Retro Compact Refrigerator
Here is a candy pink refrigerator that is the perfect pop of color! It's small enough to fit just about anywhere in your dorm, apartment, or home office.
Retro look fridge with top freezer
You can brand this sleek, retro-inspired Galanz fridge in black and red, but even better, it's also a great budget option. It features two doors with a top freezer, and at 12 cubic feet it's a bit larger than Smeg's bottom freezer fridge if you need a little extra space for food.
Original refrigerator from the retro collection
While most retro refrigerators are smaller, Big Chill offers a larger, more standard option. This two-door top-freezer refrigerator is almost double the size of the two-door Smeg at 20.5 cubic feet. It's available in a range of vibrant colors, and for an additional $400 you can choose from dozens of other custom colors.
Retro Compact Refrigerator, 4.4 Cu. Pi
This mini fridge comes in 5 colors, but the icy, cloudy blue hue is a refreshing take on traditional white fridges.
Retro Bottom-Freezer Refrigerator
On the smaller and narrower side, this bottom freezer refrigerator from Unique is another good budget option. It measures nine cubic feet (and just over 21 inches wide), comes in four colors, and costs less than $1,000. It may be small compared to some refrigerators, but it still has three freezer drawers and four adjustable shelves.
4.4-Cu. ft. Retro 1-Door Compact Refrigerator
Although this cool mint fridge has a smaller frame, it has enough shelves inside the base unit and door for your groceries. You can customize how you store your produce in the crisper and adjust for taller items.
Retro Bottom Mount Refrigerator
This gold champagne fridge from Chambers is so pretty, it'll make you want to pop a bottle of champagne when it arrives. Another bottom freezer option, it has 12 cubic feet of space (like the Galanz option) and it even comes with a wine rack inside so you can chill your favorite bottles.
This content is created and maintained by a third party, and uploaded to this page to help users provide their email addresses. You may be able to find more information about this and similar content on piano.io
Advertising – Continue Reading Below